CTVA
The Classic TV Archive - TV Western series
Tate (1960)
Sponsors Kraft
Episode Guide compiled by The Classic TV Archive
with contributions by:
John King, Tom Dischley, Robert B. Huggins (#4), Sal Crisanti, Rina Fox
references:
Library of Congress (telnet://locis.loc.gov)
Internet Movie Database (https://www.imdb.com)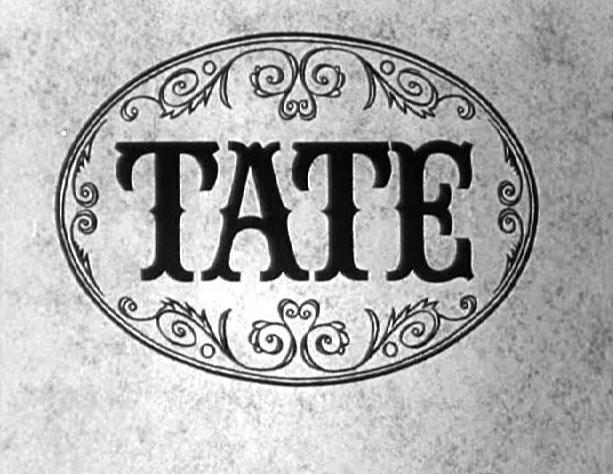 Roncorn Video Film Productions
for
NBC (Wednesdays 9:30pm EST)
Executive Producer Alvin Cooperman
Produced by Shelley Hull
Created by Harry Julian Fink

US Western series 1960 13 episodes x 30 min
(8Jun60- 28Sept60)
starring
David McClean as Tate
Patricia Breslin as Jessica Jackson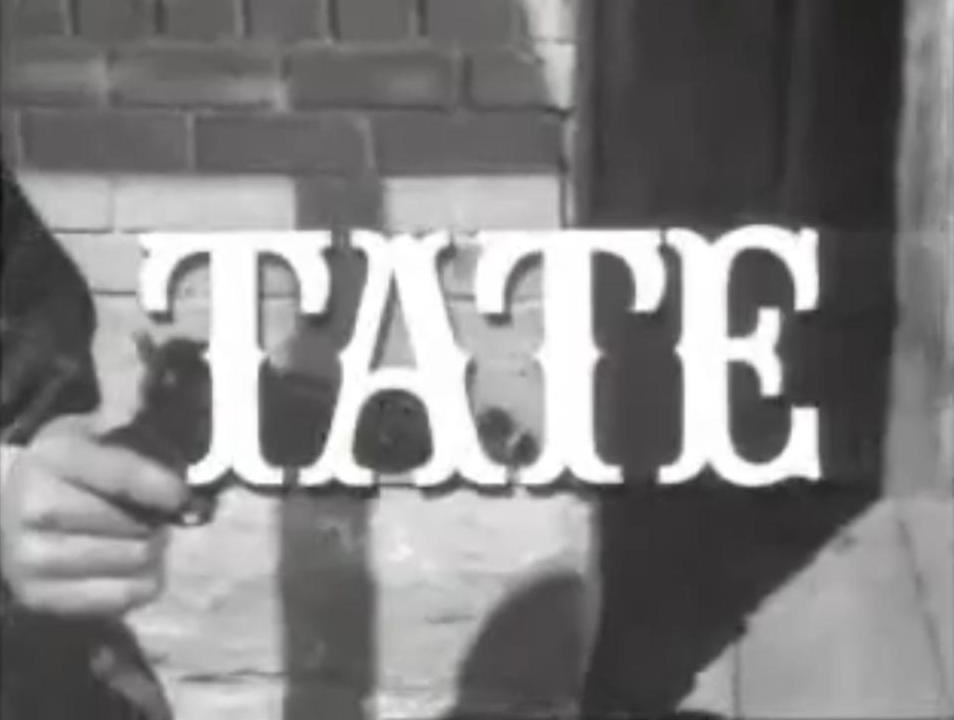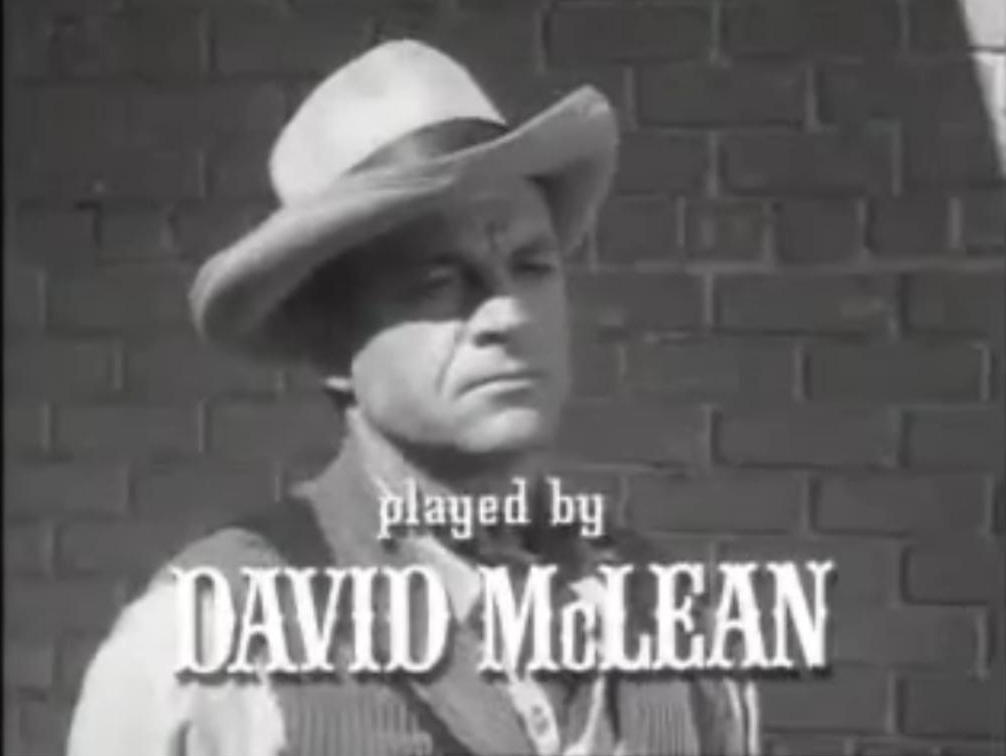 Premise:
A one-armed Civil War veteran, turns wandering gunfighter.

##################### Tate ###################
############# season Summer 1960 #############
##############################################
NBC Wednesdays 9:30 pm Eastern

1.01 [--] Tate: HOME TOWN
08Jun60 NBC Wed
Starring:
David McLean as Tate
GS:
Royal Dano,
James Coburn,
Sandra Knight,
Don Wilbanks,
Jim Hayward.
Synopsis:
Tate returns to the town of his boyhood to repay a debt to a friend. [JK]

1.02 [--] Tate: STOPOVER
15Jun60 NBC Wed
Starring:
David McLean as Tate
GS:
King Calder ............ Ben Tracy
Bill Tennant ........... Will Smith
Peggy Ann Garner ....... Julie
Vaughn Taylor .......... Bartender
Synopsis:
Tate is forced to shoot Ben Tracy, who is known as the fastest gun.
Then he faces the wrath of young Will Smith, who wanted to launch his
own gunfighting career by outdrawing Tracy. [JK]

1.03 [--] Tate: THE BOUNTY HUNTER
22Jun60 NBC Wed
Starring:
David McLean as Tate
GS:
Robert Culp,
Louise Fletcher (as Roberta McConnell)
Robert Redford,
Robert Warwick
Synopsis:
Tom Sandee believes that Tate is a fugitive from justice and goes after him. [JK]

1.04 [--] Tate: THE MARY HARDIN STORY (verified on film RBH/RF)
29Jun60 NBC Wed (Network rerun 21Sep60)
Source: 1950s TVís Greatest Westerns DVD (Falcon Picture Group Catalog #2007)[RBH]
Executive Producer: Alvin Cooperman
Produced by Shelley Hull
Written and Created by Harry Julian Fink
Directed by Ida Lupino
Starring:
David McLean as Tate
Guest Star:
Julia Adams .............. Mrs. Hardin
with:
Mort Mills ............... Tetlow
James Bell ............... Frank
Chris Alcaide ............ Parney
William Eben Stephens .... Hughie
Scott Davey .............. Tad
*
Director of Photography, Wilfrid M. Cline, A.S.C.
Script Consultant, Harry Julian Fink
Production Manager, George Tobin
Art Director, Edward Ilou
*
Costume Supervisor, Richard James
Set Decorator, Mac Lulcahy
Make-up Artist, Richard Hamilton
*
Sound, Robert O'Brien
Property Master, James Trepeck
Script Supervisor, William E. Orr
*
Edited by Fred Feitshans, Jr, A.C.E.
Music Supervision, Irving Friedman
Music Editor, Igo Kanter
Sound Effects Editor, Jack Kirschner, M.P.S.E.
Assistant Director, Bill Forsyth
*
Synopsis 1:
Tate gets a plea for help from a pretty widow. A man named Tetlow
is trying to force her into giving up her land. [JK]
Synopsis 2:
Tate helps a widow and her young son defend their ranch against a
ruthless land baron and his henchmen. [RBH]

1.05 [--] Tate: VOICES OF THE TOWN
06Jul60 NBC Wed
Starring:
David McLean as Tate
GS:
Paul Richards,
William Mims,
George Mitchell,
Don Wilbanks,
Gail Bonney,
Bob January,
Wendy Winkelman.
Synopsis:
Out to capture Frank Turner, Tate is caught in an ambush by Mrs. Turner
and forced to shoot her. Angry townsfolk rise up in protest. [JK]

1.06 [--] Tate: A LETHAL PRIDE
20Jul60 NBC Wed
Starring:
David McLean as Tate
GS:
Ronald Nicholas,
Marianna Hill,
Gregory Morton,
Jack Orrison.
Synopsis:
Manuel Arriega hires Tate to track down a fugitive from justice. Bent
on revenge, Arriega wants the man killed on sight, but Tate insists
on bringing him in alive. [JK]

1.07 [--] Tate: TIGERO
03Aug60 NBC Wed
Directed by David Lowell Rich [SC]
Written by Harry Julian Fink [SC]
Starring:
David McLean as Tate
GS:
Martin Landau,
Ted Markland,
Mark Norton.
Synopsis:
Tate is escorting murderer John Chess to jail. But the Towey brothers
have other plans for the prisoner. [JK]

1.08 [--] Tate: COMANCHE SCALPS
10Aug60 NBC Wed
Starring:
David McLean as Tate
GS:
Frank Overton,
Robert Redford
Leonard Nimoy,
Lane Bradford,
Anne Whitfield.
Synopsis:
Lucy was engaged to Amos Dundee, and she got married. There was just
one small change in plans, the bride-groom was Amos' brother Tad. And
now Amos plans to kill his brother. [JK]

1.09 [--] Tate: BEFORE SUNUP
17Aug60 NBC Wed
Starring:
David McLean as Tate
GS:
Robert Boon,
Jean Allison,
Warren Oates,
Peter Whitney,
William Challeee,
Morgan Sha'an.
Synopsis:
A cold-blooded gang of outlaws seriously wound Otto, and then bet on
long he'll live. Tate guards the wounded man from Clay Sedon who wants
to insure his bet. [JK]

1.10 [--] Tate: THE RECKONING
24Aug60 NBC wed
Starring:
David McLean as Tate
GS:
Phyllis Avery,
Crahan Denton
Bing Russell (aka Neil Russell)
Synopsis:
Stalking a killer named Abel King, Tate falls ill. He is nursed back to
health by King's daughter Lulie. [JK]

1.11 [--] Tate: THE GUUNFIGHTERS
31Aug60 NBC wed
Starring:
David McLean as Tate
GS:
Jack Hogan
Elizabeth Perry,
Alan Reynolds,
Fay Roope,
Ken Mayer Keefer,
Synopsis:
A rancher owes his employees their year's wage of two of cattle each.
They hire Tate to help them collect. Soon Tate and the ranch hands are
faced with an ambush. [JK]

1.12 [--] Tate: QUIET AFTER THE STORM
7Sep60 NBC wed
Starring:
David McLean as Tate
GS:
Cathy O'Donnell,
Hampton Fancher,
Rusty Lane,
Don Wilbanks.
Synopsis:
A girl is shot by a jealous suitor named Coley, and Tate takes after
the man, hoping to reach him before a lynch mob does. He tracks him
to his home and meets Jesse, Coley's aged father. [JK]

1.13 [--] Tate: THE RETURN OF JESSICA JACKSON
14Sep60 NBC wed
Starring:
David McLean as Tate
GS:
Jock Gaynor,
John Kellogg,
Patricia Breslin,
Henry Corden
Lilian Buyeff, Donald Losby, Jon Lormer
Synopsis:
Tate is hired by frontiersman Milo Jackson to find his wife Jessica,
who has been abducted by the Paiute Indians. [JK]

[--] 21Sep60 rerun of 1.04 "The Mary Hardin Story (first aired 29Jun60)

##################### Tate ###################
################# the end ##################
##############################################

Have you any comments, corrections, episode titles, air dates, production numbers, directors, writers, story/synopsis, guest stars, cast lists, etc?
Have you any old videos, or tv guides? Dust them off and let us know if you have any information on this series or any other tv series from the
Golden Age of TV, which is missing from any episode guides on the web. Perhaps a certain episode of a particular series coincided with a key
moment in your life, or in world events - and or has left a vivid memory of when it was shown. Let us know. Would you like to see any other
tv series guides on this site? If so please e-mail The Classic TV Archive - see Feedback below.
This guide may be distributed and copied freely, in its entirety, for personal use. All original author and copyright information must
remain intact. Any sales or other uses of this document are expressly forbidden, without the specific consent of the author(s).
Copyright © The Classic TV Archive. All rights reserved.
Return to The Classic TV Archive Western Page
Return to The Classic TV Archive Home Page